I know what you're thinking. "Avocado?"
Stick with me here. You'll be glad you did.
The Coffee Avocado Smoothie – Es Alpukat
"Es Alpukat" (meaning 'ice avocado') is sold by street vendors across Indonesia. The avocado is typically blended with coffee, chocolate syrup, or sweetened condensed milk.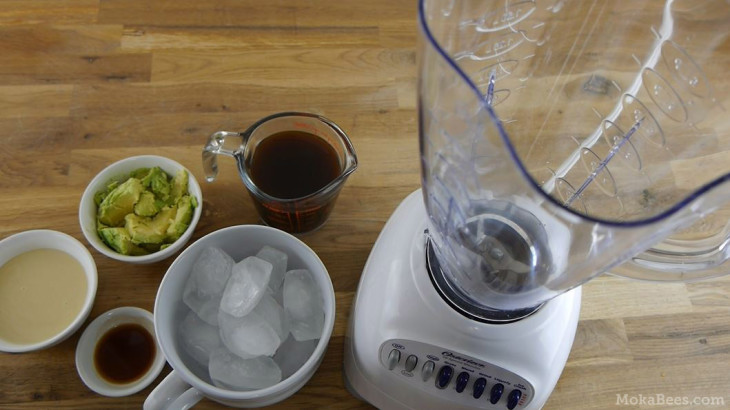 Never having eaten avocado in anything but sushi and game-day taco dips, I fully expected it to taste like guacamole. But I'm a sucker for unusual coffee pairings, so this had to be tried at least once.
Boy, was I off-base. Upon tasting the first sip, my eyes widened. It's shockingly good. The creamy consistency is almost "frappe-like" in texture, much like a sweet, thick, coffee milkshake. I can see why this is so widely-enjoyed in Indonesia, since the nation's mountainous location near the equator makes it the perfect spot for growing both coffee and avocados. But this is one of those treats that's so amazingly-good, it left me asking "why aren't we serving this everywhere? The world must know how good this is."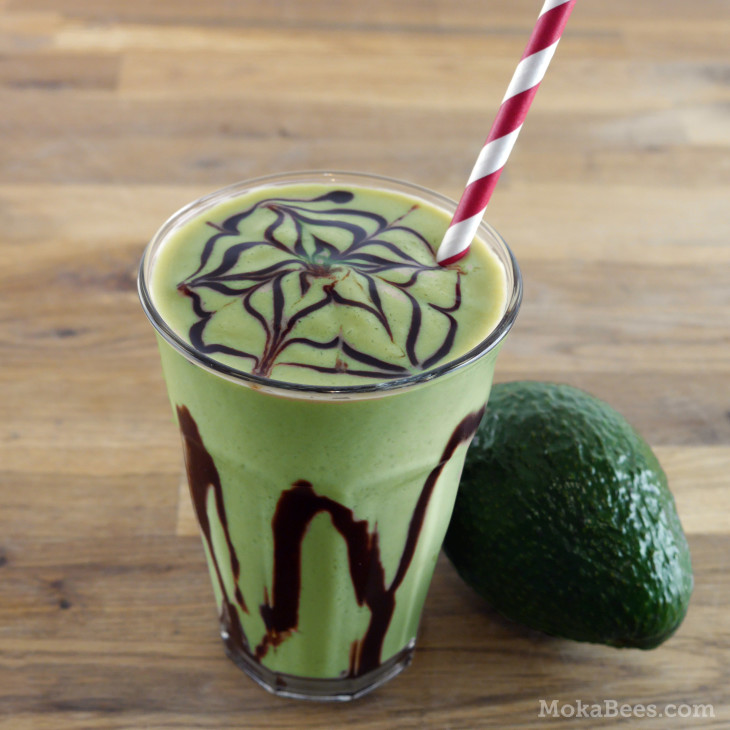 It's a little mind-boggling. Your brain is telling you "you're drinking avocado" but your taste buds tell you otherwise. The avocado is barely detectable, as it simply absorbs the flavors of the coffee, chocolate, and sweetener.
I'll be honest, a lot of these recipes take days of testing, re-working, and agonizing over tiny details to ensure the final product is something I know you'll enjoy.
But this recipe? One try. That's all it took. Even when I played with the ingredient amounts, it always came out delicious. And because of that, I'm convinced that coffee and avocados were meant to be together.
How to Choose an Avocado
Ripe avocados will yield to pressure when gently squeezed. If you're shopping in advance, you might want to choose a firmer avocado, since they'll ripen within a couple of days. Once you cut it open, don't worry if there's a couple brown spots in there – it'll all get thrown in the blender anyway. But once it's cut, it will begin to oxidize and turn brown, so it's best to use it immediately.
Coffee-Free Es Alpukat
Don't like coffee? No problem, simply substitute milk instead. Alternative milks like almond, soy, or coconut milk would work as well. And although I haven't tried it yet, word on the street is that chocolate milk is great as well.
What's the Downside?
Trick question. There isn't one.
But I should note that if you're adding coffee, don't expect the drink to keep that lime-green color. Depending on how much coffee you use, it tends to be more neutral in color once blended. However, coffee-free versions usually sustain that lovely shade of green.
Other Es Alpukat Variations
For a more adult twist, try added a shot of Kahlua or chocolate vodka.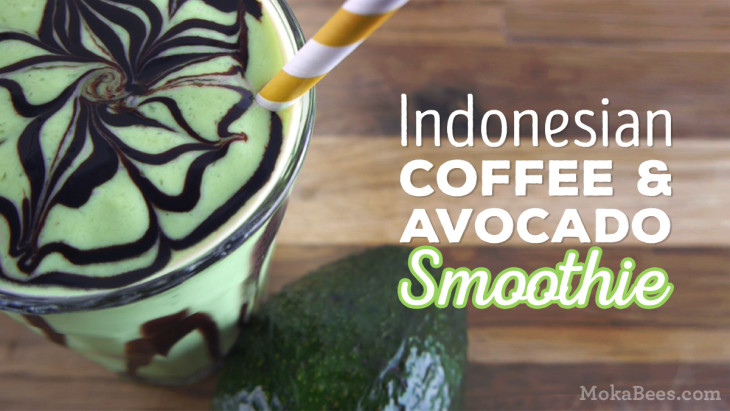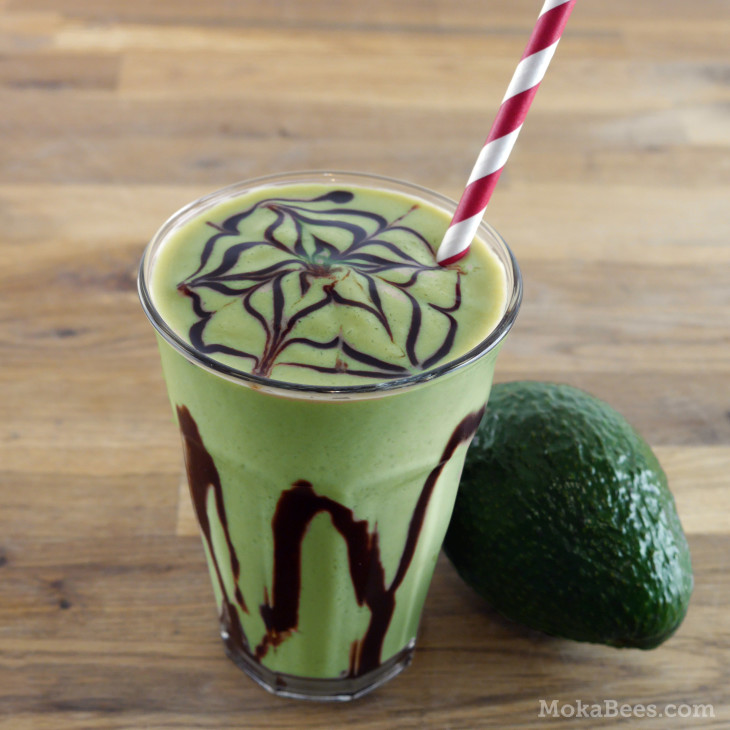 Indonesian Coffee Avocado Smoothie / Milkshake (Es Alpukat)
2015-12-02 22:12:56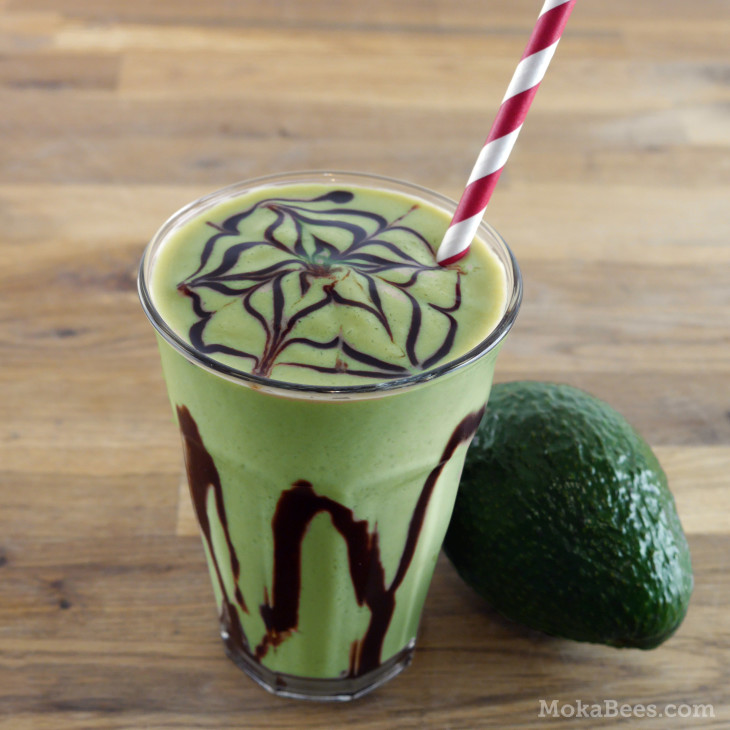 Serves 2
A thick, creamy "milkshake" made with sweetened avocado and coffee, served Indonesian-style.
Ingredients
1 ripe avocado (or 1/2 if your avocado is super-large)
1 cup strongly-brewed coffee, chilled
1/2 cup sweetened condensed milk
2 cups ice cubes
2 teaspoons vanilla
chocolate syrup to taste
Tools Needed
Blender
Toothpick (optional)
Instructions
Scoop out avocado flesh with a spoon. Discard the seed & skin.
Add avocado to a blender with the ice, coffee, sweetened condensed milk, and vanilla. Blend until smooth.
Drizzle lines of chocolate syrup along the sides of two glasses.
Pour blended mixture into glasses, and top with chocolate syrup.
Optional: For visual interest, make a "spiral" shape on top with chocolate syrup, then use a toothpick to pull lines from the center, outward toward the edge of the glass, creating a flower motif.
Notes
Coffee-Free Version: Replace coffee with milk.
Adapted from epicurious
http://www.epicurious.com/recipes/food/views/coffee-avocado-milkshake-es-alpukat-201090
MokaBees • Coffee Recipes & How-Tos http://www.mokabees.com/
Credits:
Music courtesy of YouTube Audio Library.
Ice image credit – Wikimedia User: Mattes – used via Creative Commons License (CC BY-SA 3.0).