You know that disappointing occurrence when you get a cup of tea or coffee that smells AMAZING but tastes like water? Well, this isn't like that AT ALL. Cafe de Olla tastes even better than smells, which makes it worth the time.
What is Mexican Coffee?
Traditional Mexican Coffee (Café de Olla) is the potpourri of the coffee world. Incredibly fragrant, this coffee will have your home smelling amazing for days. Cinnamon is the heavy-hitter in this recipe. Add the licorice-notes of anise, the spiciness of clove, and the citrus aroma of orange peel, and you have a delicious brew that hugs you from the inside-out.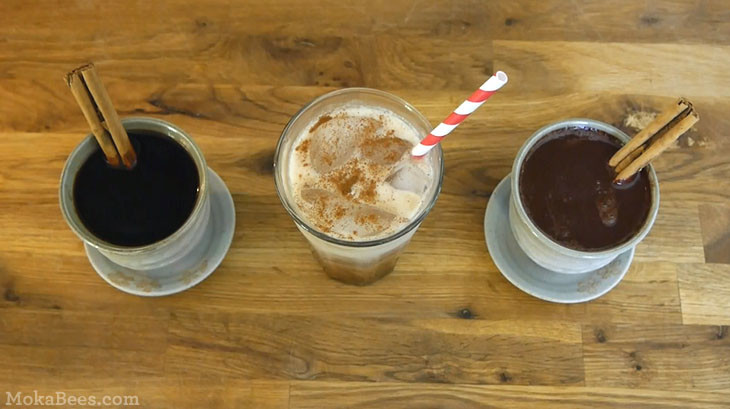 Another key distinction is the use of piloncillo — a cone of unrefined sugar commonly used in latin recipes. I found mine in the international section of my local grocery store. They're quite inexpensive. Sure, you can just use brown sugar, but piloncillo has a distinct, rustic flavor–a bit like rum and molasses. It adds a certain warmth to the brew.
Mexican Coffee 3 Ways
We're taking this authentic recipe a step further by making it three ways:
• Traditional Black (spiced)
• With Chocolate
• Iced with Chocolate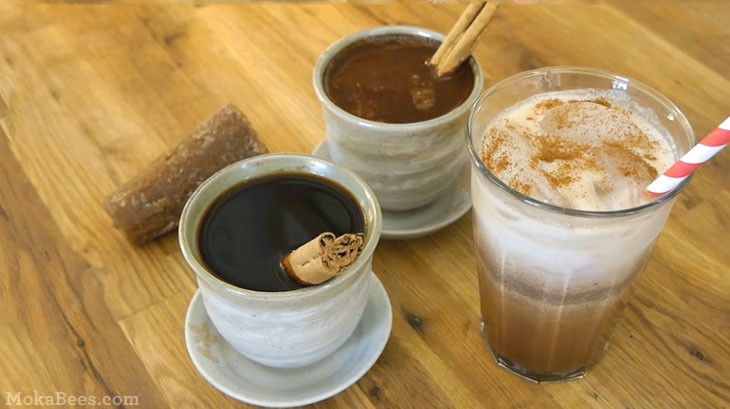 Things to note:
Traditional Methods & Variations
The Brewing Pot: Cafe de Olla is traditionally brewed in a clay pot and served in clay cups. They say this adds rustic flavor, but we're using the tools we have on-hand.
Straining: Many traditional recipes don't require straining. Similar to turkish coffee, they wait a few minutes after brewing and allow the grounds to settle to the bottom of the pot, then ladle out coffee from the top to serve.
The Sugar:
Piloncillo (also called panela) is unrefined Mexican sugar that dissolves surprisingly quickly. It tastes like rum and molasses, although it contains neither of those things. It's a little tricky to use. You'll need to break it into chunks. (Using a cheese grater, hammer, chisel, etc.) My technique was to place it in a ziploc bag, cover it with a towel, and whack it with a hammer. I then used a knife to split smaller pieces. You can also nuke it for 10 – 30 seconds in microwave to soften it a bit. But be careful.
You can also use panela, muscovado, or brown sugar.
What roast to use for Mexican Coffee:
Single-origin Mexican Coffee can be a little hard to come by in some areas, but you can also use a coarsely-ground Viennese roast (medium-to-dark roast).
The Chocolate:
Mexican drinking chocolate (such as Abuelita or Barra) can be used, but requires high heat to fully dissolve. We don't want the coffee to turn bitter due to extended exposure to high heat, so semi-sweet chips work well since they dissolve quickly. If you use Mexican Drinking Chocolate, be prepared to whisk for a longer period of time, and for the chocolate to form "solids" which float about in the coffee.
That's a lot of spices. Do I really need them all?
Don't feel like you need to use all of them. This recipe is very forgiving, and any combination can be used. Some recipes use cinnamon only. Some skip the orange peel. Feel free to roll with whatever you have on-hand. Cinnamon and coffee are really the only true requirements. But using all the suggested spices creates an incredibly floral aroma. I highly recommend it.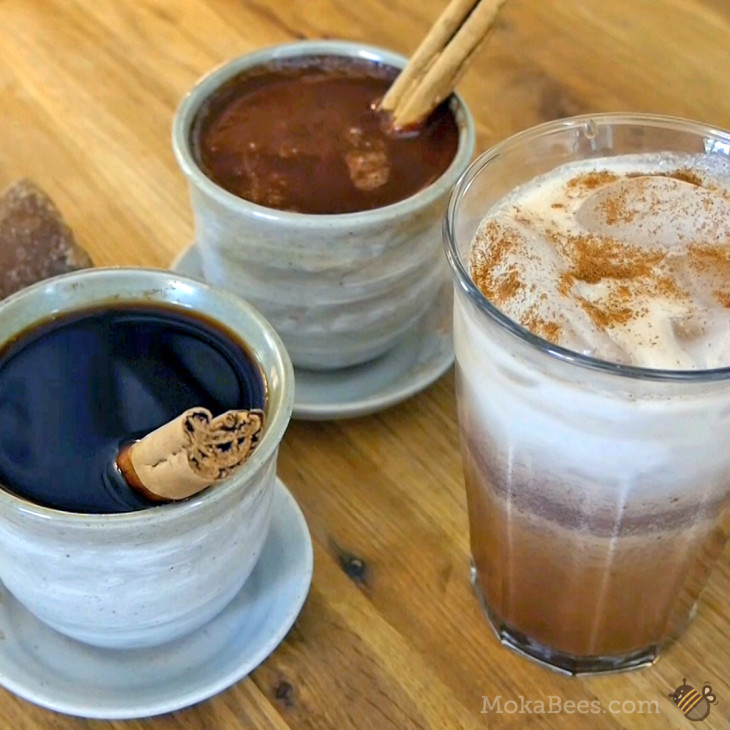 Tips for making Mexican Coffee:
Check the latin or international section of your grocery store for spices. They're usually half-the-price than the ones in the baking aisle.
This is best served immediately.
You may want to warm your cups and pouring bowl with hot water prior to use, to keep the heat in.
A splash of Kahlua takes this to the next level.
---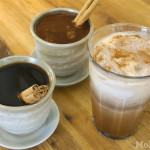 Mexican Coffee Three Ways (Spiced, Chocolate & Iced) - Cafe de Olla
2015-08-08 16:57:37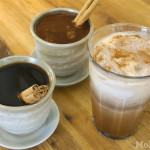 Serves 2
Ingredients
2 cups water
1.5 oz piloncillo (or 5 tbsp. brown sugar)
4 small cinnamon sticks (or 2 large ones)
2 cloves
A pinch of anise seeds
1 orange peel (optional)
1 oz (or 3 rounded Tbsp.) of coarsely-ground Mexican or Viennese Coffee


For the chocolate version, add:
2 oz semisweet chocolate (for the chocolate version)
pinch of salt and/or cinnamon


For the iced version, add:
ice
milk or half-and-half (optional)
Instructions
1. Combine water, sugar, cinnamon, orange peel, cloves, and anise in pot on high.
2. Bring to boil, stir, and then turn heat down to medium-low. Allow to simmer for 5 minutes.
3. Remove from heat. Add coffee. Cover and allow to steep for 5 minutes.
4. Strain with a fine mesh strainer (or line a large-hole strainer with coffee filters or paper towel.)
5. Serve with cinnamon stick.
CHOCOLATE VERSION:
- Follow steps 1-4 above.
- Return coffee to pot. (You may have to clean it out first.) Turn heat to lowest setting (just to keep the coffee warm.)
- Add chocolate and whisk briskly until fully dissolved (about 3-5 minutes)
- Serve and sprinkle with the tiniest pinch of salt or cinnamon.
ICED VERSION:
Pour the black or chocolate version over ice to chill. Top with half-and-half or milk. Serve.
Notes
Makes 2, 6-ounce servings
MokaBees • Coffee Recipes & How-Tos http://www.mokabees.com/
---
♥ We love to hear from you! ♥
Please feel free to ask questions and share your own experiences.
Music: "Modern Jazz Samba" by Kevin MacLeod.
Visit http://incompetech.com/
Available under the Creative Commons Attribution 3.0 Unported license: https://creativecommons.org/licenses/by/3.0/us/
*FTC* – This is not a sponsored video.