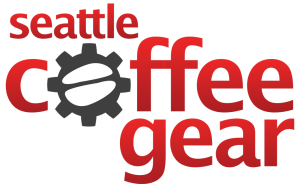 If you love coffee and have spent any time on YouTube, you're probably familiar with Seattle Coffee Gear. Their YouTube channel features almost-daily coffee equipment reviews, tips, and brewing guides. Being from Portland, I'm lucky that there's a store nearby. Contrary to the Portland "chill" you get at a lot of establishments, every experience at Seattle Coffee Gear I've had has been warm, friendly, and helpful.
Let me paint a picture for you: my husband is a tall, lumberjack-like man with a foot-long beard, long hair, and flannel wardrobe. Think Santa meets biker dude. He's impressed by very little, and he doesn't like coffee. In fact, he hates it.
So when I brought him along on my first trip to Seattle Coffee Gear, I didn't count on him being too impressed. After all, he cringes at the mere smell of coffee, and finds many stores in Portland to be rude and unimpressive. But I needed a new frothing pitcher, so here we were.
We were greeted by
Joe
. If you've seen any of Joe's videos on YouTube, you'll know that he's passionate and knowledgeable on all-things-coffee. Joe was extremely friendly, and not only compared each pitcher for us, he practically performed a
musical
on-the-spot to demonstrate the flow of the milk within each one.
I was amazed. And more significantly — my husband was amazed.
Joe was refreshingly honest about the pros-and-cons of each pitcher, and we walked out with exactly what we needed. We knew we'd be back many times again. If you can impress my husband, you have a customer for life.
I say all that to show just how down-to-earth and helpful these folks are. In the world of high-end coffee, pretentious and uber-elite attitudes are not hard to come by. But Seattle Coffee Gear is a breath of friendly, fresh air in the sometimes cold world of specialty coffee.
Our Coffee Collaboration
Seattle Coffee Gear was kind enough to feature our Vietnamese Egg Coffee recipe this week. Check it out!
Check out Seattle Coffee Gear online:
YouTube Channel: https://www.youtube.com/user/SeattleCoffeeGear
Online Store: https://www.seattlecoffeegear.com/coffee-tea
We're Giving Away a Vietnamese Coffee Kit!
?MokaBees Holiday Giveaway?
Want to make Vietnamese coffee at home? To celebrate hitting 2,000 subscribers, MokaBees is giving away a Vietnamese Coffee Kit. There's 10 ways to enter. The winner will be announced on our Twitter and Facebook pages on January 23rd, 2016. Click here to enter, and for more information.