How do you make tea using 100% coffee? Once you find out, you'll never have to choose between coffee and tea again.
The answer is cascara (Spanish for "husk"). It's made from the dried skins of the coffee cherry, which are removed to access the 'bean' we all know and love, hidden inside.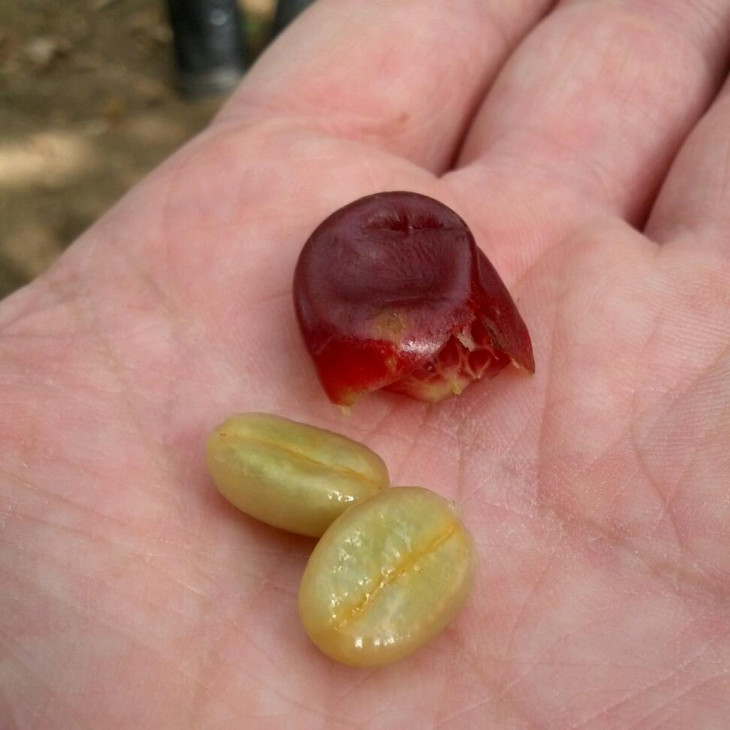 But these husks don't taste like coffee at all. They have a mild, fruity flavor, almost like watermelon. Once they're dried and aged, they produce an intense smell similar to chocolate-covered cherries. When brewed as a tea, the result is a sweet flavor reminiscent of plums and honey.
The History Behind Cascara – Coffee Cherry Tea
If you've been reading the news lately, you may have noticed the increased chatter about Cascara. It's just starting to rise in popularity among Western coffee shops. But contrary to what many of these articles are reporting, coffee cherry tea isn't a new thing. In fact, it's been enjoyed by coffee farmers around the world for generations.
You'll typically find cascara being enjoyed among coffee-growing communities. It's often used by coffee farmers as feed for livestock or as a fertilizer to add nutrients back into the soil. Because it's considered a 'byproduct' of the coffee-growing process, it's cheaper to drink than coffee, yet still offers the benefit of caffeine.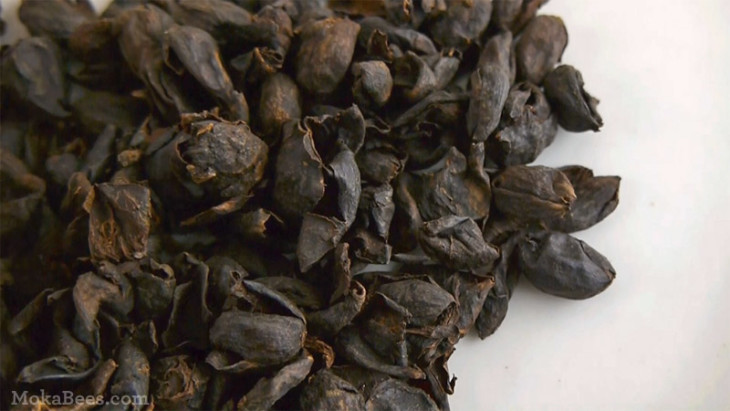 In Yemen, casacara tea is referred to as Qishr, a tea made with cascara, cinnamon, ginger or caraway. In Ethiopia, it's called Geshar or Hashara, and its darkly roasted until almost black, and infused in water for a longer period to create an intensely fruity brew. In Bolivia it's called Sultana, where they enjoy it with cinnamon, clove, and sugar.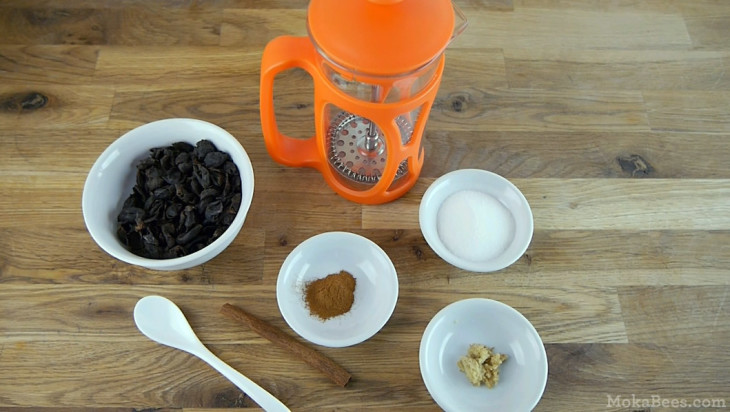 Cascara Brew Time
I had never had Cascara before preparing for this blog, so I went in completely blind. I purchased a bag online, did a little research, and soon had a warm, sweet-smelling cup in my hands. The instructions on the bag (along with several recipes online) recommended a 4-minute steep time. But I decided to go the Yemini route, and brew for a full 8-minutes.
The longer brew time made a huge difference in the color, aroma, and fruity flavor.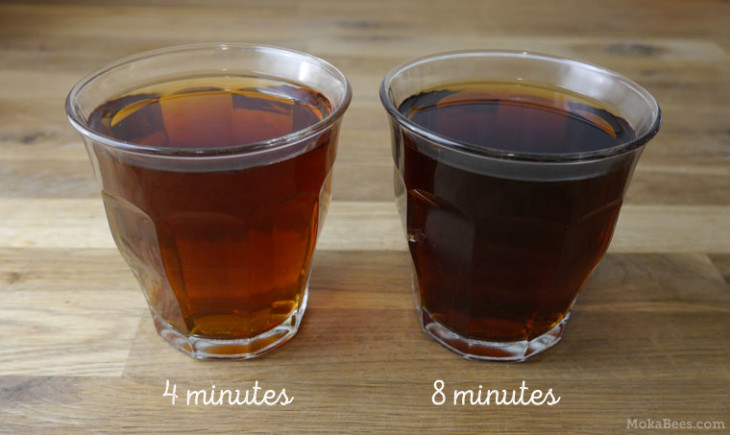 At 4 minutes: More floral. A light, mild tea with a subtle, barely detectable sweetness and notes of hibiscus.
At 8 minutes: More fruity. A noticeably sweeter tea with tart, notes of dark plum, honey, and bourbon.
It's really a matter of taste, but personally, I prefer the complexity of the darker brew. The origins of your tea will have some impact on flavor. Mine (pictured above) was from Bolivia.
Benefits of Cascara
As sustainable farming practices are embraced, growers are making strides by providing options that reduce waste and use the entirety of their harvest. For the coffee community, cascara plays a small but important role in enabling farmers to sell more of the coffee plant, thus reducing waste and proving more economic opportunities for coffee growers.
If you're concerned about caffeine, cascara has the additional benefit of having about 25% of the caffeine of coffee, but almost double the caffeine of black tea.
Cascara Recipes
The great thing about Cascara is that the fruitiness gives it so much flexibility. Sure, it makes a great tea, especially with cinnamon, ginger, or nutmeg. But it also makes a fantastic syrup, soda, or cocktail addition. Although I haven't tried it yet, I 100% am going to try using this in a barbecue or teriyaki sauce.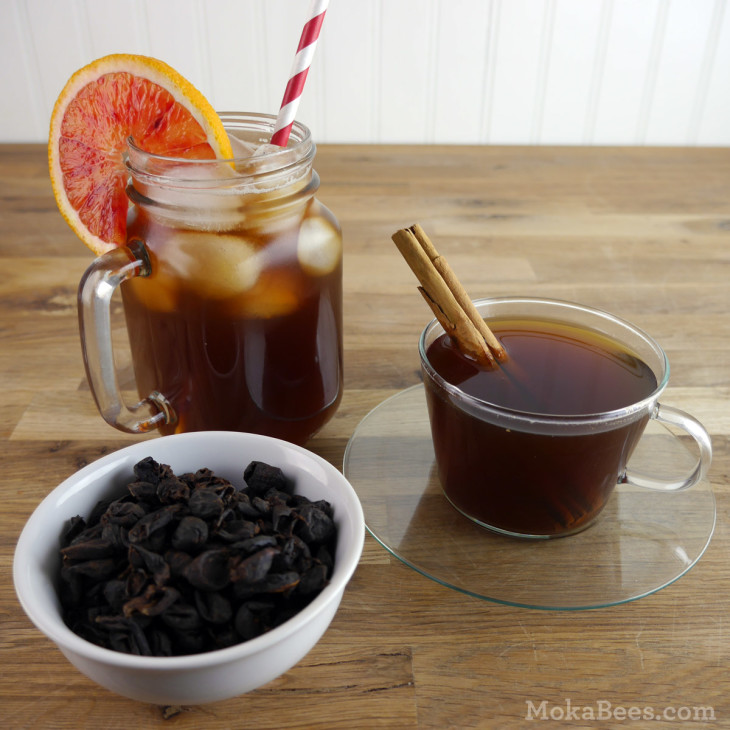 When used as an iced tea, it's fantastic when infused with other fruits. I found blood orange to be wonderfully complementary.
I highly recommend checking it out for yourself. Cascara may be the best kept secret of the coffee-growing world, but it may have finally found its moment in the sun.
Basic Cascara Tea:
serves 1
Add 18 grams of cascara (1/2 cup) to 300 grams of 200 degree water (F).
Stir and steep for 4 minutes.
Stir again, and steep 4 minutes more. Serve hot, or iced.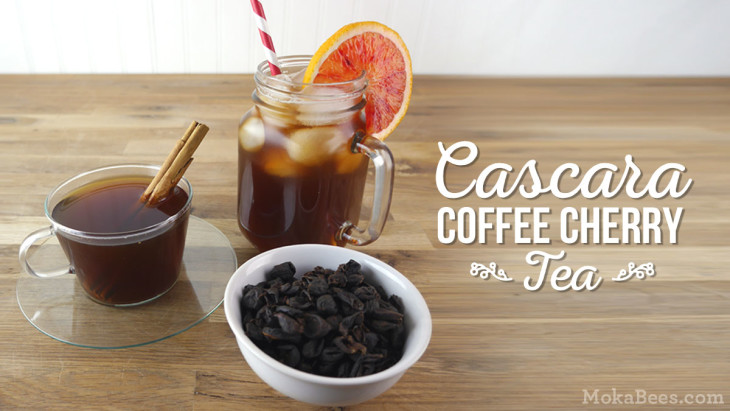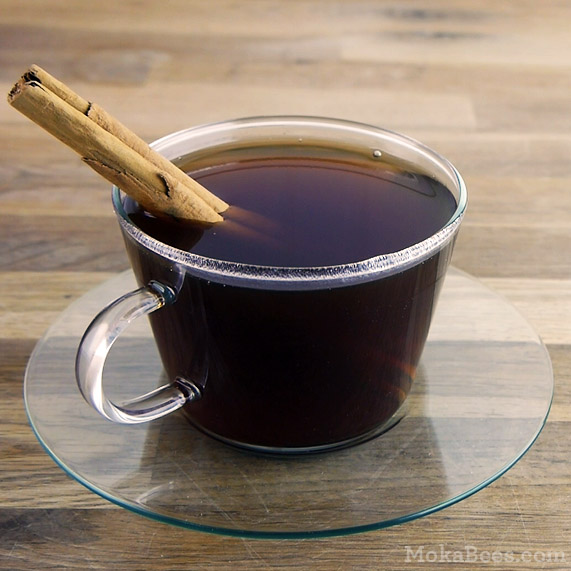 Yemeni Coffee Cherry Tea - Cascara (Qishr)
2016-01-18 19:55:06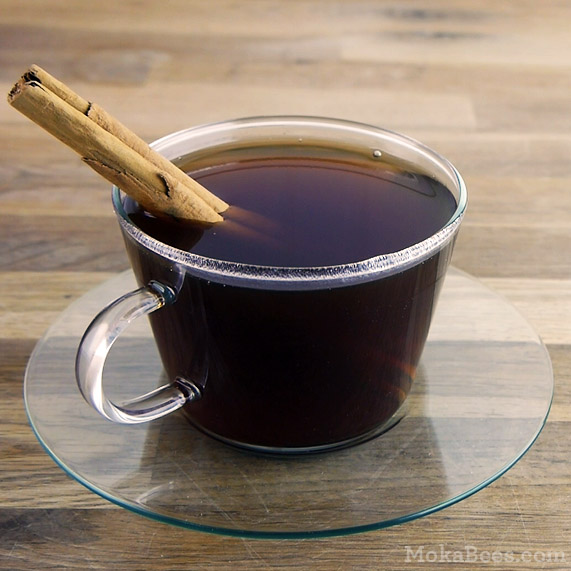 Serves 1
Fruity and sweet cascara tea with the richness of cinnamon and ginger.
Ingredients
300 grams (1 1/4 cups) water at 200 degrees F
18 grams (1/2 cup) cascara
1 tablespoon sugar
1 teaspoon freshly grated ginger (or 1/4 teaspoon ground)
1/4 teaspoon ground cinnamon
Instructions
Combine ingredients in a heat-proof kettle, pot, or french press.
Stir, then steep for 4 minutes.
Stir again and steep for 4 minutes more.
Strain and serve.
Notes
While this is traditionally made over a stove, using a french press offers the added benefit of built-in filtration.
Try with other spices as well: nutmeg, caraway, clove, or anise.
MokaBees • Coffee Recipes & How-Tos http://www.mokabees.com/
CREDITS:
MUSIC: 'THESE MOMENTS' – Calm Happy Acoustic Guitar Background Music by Nicolai Heidlas Music is licensed under a Creative Commons License, Attribution 3.0 Unported (CC BY 3.0).
PHOTO: Coffee Bean.jpeg – Photo by Ceazar77. Used via Creative Commons Attribution-Share Alike 3.0 Unported license. https://commons.wikimedia.org/wiki/File:Coffee_Bean.jpeg
PHOTO: Coffee Berries.jpg – Photo by Jonathan Wilkins. Used via Creative Commons Attribution-Share Alike 3.0 Unported license. https://commons.wikimedia.org/wiki/File:Coffee_Berries.jpg
PHOTO: NP 2DU colombia 4 lo (5244239403).jpg – Photo by Neil Palmer. Used via the Creative Commons Attribution-Share Alike 2.0 Generic license.
https://commons.wikimedia.org/wiki/File:NP_2DU_colombia_4_lo_(5244239403).jpg
PHOTO: World Map Designed by Freepik – http://www.freepik.com/free-vector/world-map-infographic_796612.htm