Hi, there. I'm MokaBees, and I love coffee.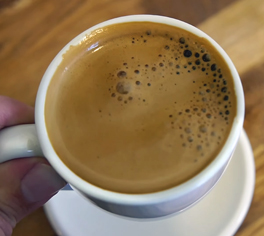 MokaBees is a Portland, Oregon-based coffee blog featuring video tutorials created by me ― an unpretentious coffee amateur, non-expert, and admitted maintenance user. I'm a graphic and web designer by trade, indentured servant to two cats, and wife of a gentleman that (gasp!) prefers tea.
We make it work, though.
This blog documents my journey into learning how to make better coffee. I'll be sharing my discoveries with you along the way through video tutorials. I'm assisted by my husband, who helps with camera work on occasion, and serves as a patient sounding board when I'm ticked-off about a recipe not cooperating or my computer crashing.
Frequently Asked Questions about MokaBees
How did this coffee blog start?
This whole blog started by accident. I was frustrated with how much money I was spending at coffee shops, and wanted to start making great coffee at home. The problem was that I was an awful cook, and knew little-to-nothing about brewing coffee. In my quest to learn more, I scoured the internet for information, but was frustrated at how much of it seemed contradictory. So I started testing and playing with brew methods myself, and each time I discovered a process that truly worked for me, I documented it on YouTube for others.
This eventually encompassed my second-favorite thing – international travel. Inconveniently, I developed a horrible flying phobia a few years ago, after years of traveling to exotic and interesting places without issue. So to help quell my frustrated travel-bug, I started bringing a little culture home by making videos which documented how different countries enjoy their coffee. It's amazing that even with huge differences in histories, geography, and food–coffee is one thing that almost every culture enjoys.
Do you have a cafe?
No. This is only a coffee blog with video recipes. We do not have a brick-and-mortar location.
Are you a coffee expert?
We're not experts or professionals; we're simply people who love coffee. It's easy to get wrapped-up in the finer points of specialty coffee and high-end production, but we don't venture much into that kind of territory. Because we believe that sharing little coffee discoveries with everyday coffee drinkers makes the coffee community better for all of us.
Can I use your images, recipes, or videos on my site?
It takes an incredible amount of effort to create the videos and posts on this site. All of the content, videos, and images are copyrighted, which means you need permission to use them. If you'd like to share one of my recipes, please limit yourself to one (1) image, and link back to MokaBees.com or to the post directly.
If embedding one of our YouTube videos (hosted on our channel), please add a link to either MokaBees.com, the YouTube URL of the video, or the URL of the corresponding recipe on MokaBees.com. Downloading any of our videos and rehosting or republishing them yourself (or on any other platform) is strictly prohibited. Any screencaps of the video must be attributed in the same manner as mentioned above, and are limited to a single screencap per post.
Reposted recipes, in any format, must be re-written in your own words and an attribution link provided. When in doubt, just contact us. Thank you!
What does MokaBees mean?
MokaBees pays homage to two interests of mine:
– Moka – My favorite method of brewing coffee, the Moka Pot. Hands down.
– Bees – In addition to coffee, I'm obsessed with beekeeping and like the idea of serving as a little 'worker' dedicated to bringing you the buzz on excellent coffee recipes.
Do you get paid to do this?
MokaBees.com covers all-things-coffee, from recipes and tutorials, to brew and gear reviews. We're amateur enthusiasts with 'day jobs' who currently maintain this blog simply for the fun of it… and because it's a great excuse to increase the coffee budget. Posts and videos are only sponsored if specifically mentioned.
Why don't you show your face?
I think it's important that the viewer feel like they're making each recipe themselves while watching these tutorials. Also, I have a face perfect for radio.
Who designed your logo & branding?
I did! One joy of creating this blog was putting my graphic design skills to work on something I personally enjoy.
Thanks for stopping by!