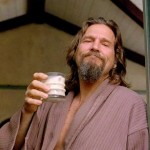 With two types of buzz in a single drink, coffee cocktails are a special kind of alchemy. Dating all the way back to the 1800s, they were typically served as hot, post-meal treats – classics like Irish Coffee, Spanish Coffee, or Mexican Coffee. But if you're a fan of The Big Lebowski, you've probably experienced the cool, smooth effect that occurs when coffee and alcohol are married over ice. Coffee adds a bitter, chocolatey bite to iced cocktails that seems to clear the palette as you drink it, making each sip as refreshing as the last.
It could be argued that The Big Lebowski, along with America's renewed appreciation for coffee (spurred by the popularity of second-wave chains like Starbucks), contributed to the growing resurgence of coffee cocktails. What was once seen as a cocktail for binging college students making their way through late study nights, has turned into an entirely new genre of libations, ranging from cold brew concoctions, to spiked espresso shots.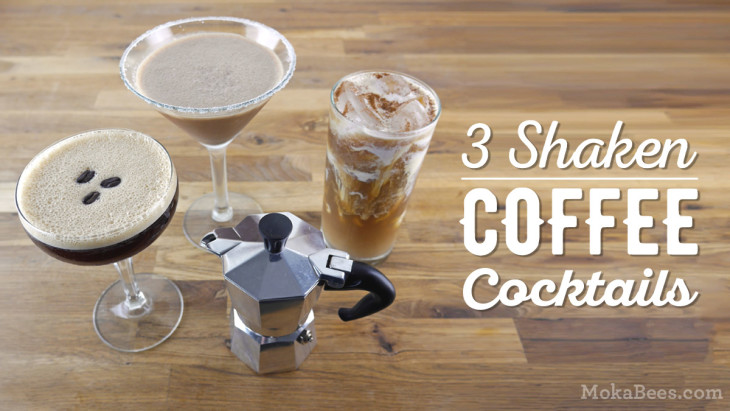 We're going to tackle three shaken cocktail recipes:
Mocha Margarita
Horchata Coffee Cocktail
Espresso Martini

Let's talk about the tools you'll need. There's not many, which is another great thing about these recipes.
Shaking These Cocktails
To shake these cocktails, you can either use a sturdy jar, or a cocktail shaker. I'm using this "cobbler-style" shaker set by Mixologist World (website).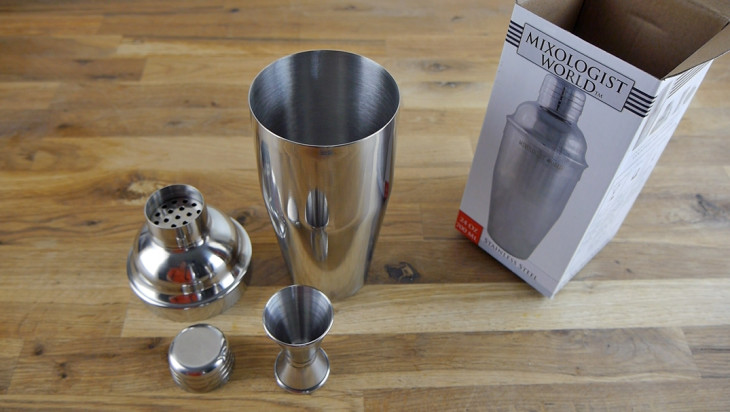 Cocktail shakers are generally inexpensive, but well worth the investment. The stainless steel construction allows drinks to chill incredibly fast, and without the risk of breaking glass. The built-in strainer means I have one-less gadget to keep track of around the house, and the fact that it's dishwasher-safe makes clean-up easy. This particular set also came with a measuring jigger and an illustrated book of cocktail recipes. Pretty nice set. And it has a larger capacity than most cocktail shakers (at 24 ounces), which is great when you're making drinks for parties.
? Scroll down to enter our contest for a free Mixologist World Cocktail Shaker set. ?
The Coffee
Like most recipes, the quality of your ingredients will drastically change the taste of the final product. For these cocktails, I recommend using espresso or extremely strong coffee. A Bialetti moka pot brew is used in the video tutorial, but cold brew or other concentrated forms of coffee work as well.
Brew guides for these methods can be found here: [Cold Brew Guide | Moka Pot Guide].
Coffee Cocktail #1: The Mocha Margarita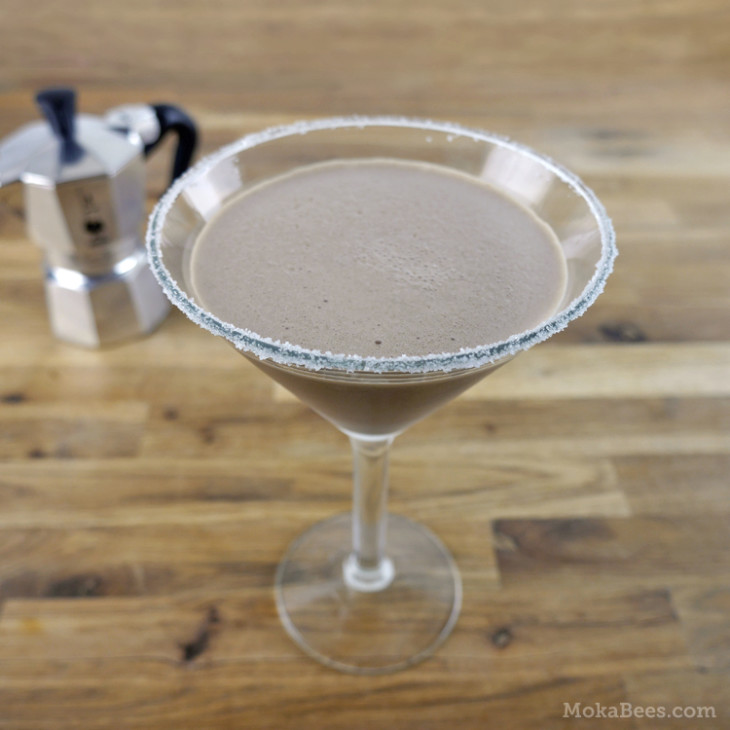 In this recipe, coffee, tequila, and chocolate ice cream are combined to make a frothy, thick cocktail.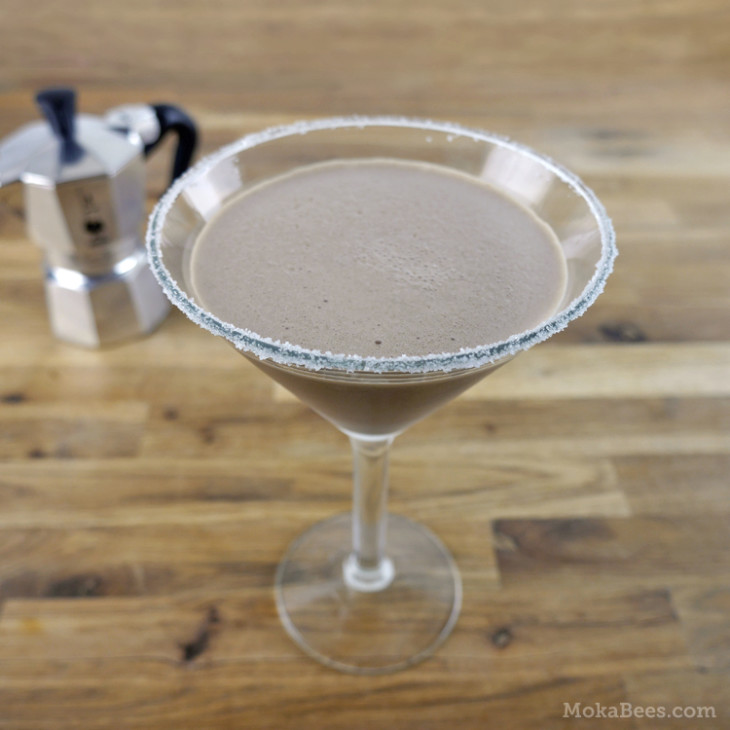 Mocha Margarita
2016-02-02 11:09:34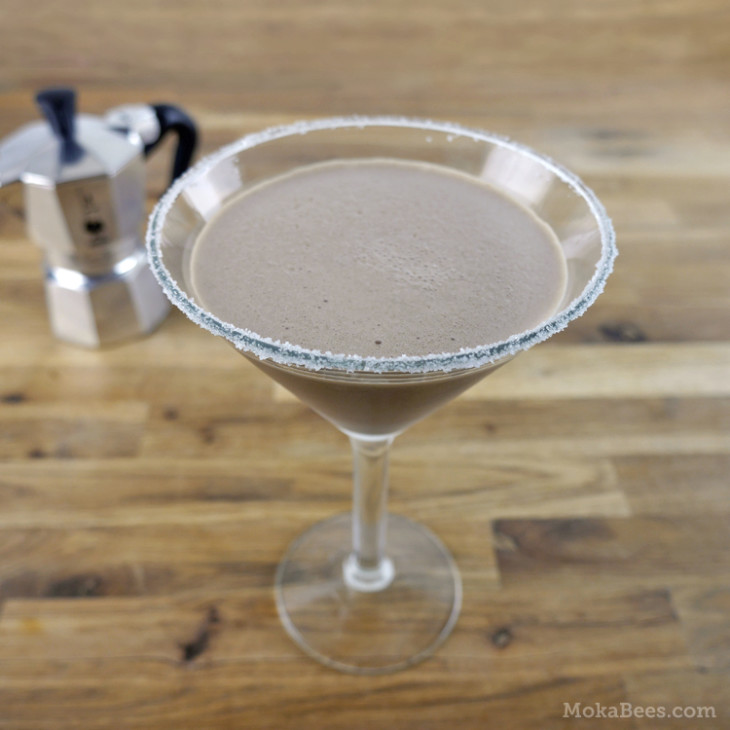 Serves 1
A thick, foamy combination of strong coffee, tequila, and chocolate ice cream.
Ingredients
1/2 cup chocolate ice cream, softened
2 ounces strong coffee or espresso
1 ounce white tequila
crushed ice
sugar & salt
Instructions
Lightly rub the rim of a chilled, 6 ounce glass with tequila, then dip the rim in a sugar and salt mixture to coat.
Combine all ingredients in a cocktail shaker and fill with ice.
Shake vigourously, until the ice cream is lump-free and pourable.
Serve in the chilled martini or margarita glass.
Adapted from MyRecipes
MokaBees • Coffee Recipes & How-Tos http://www.mokabees.com/
Coffee Cocktail #2: Horchata Coffee Cocktail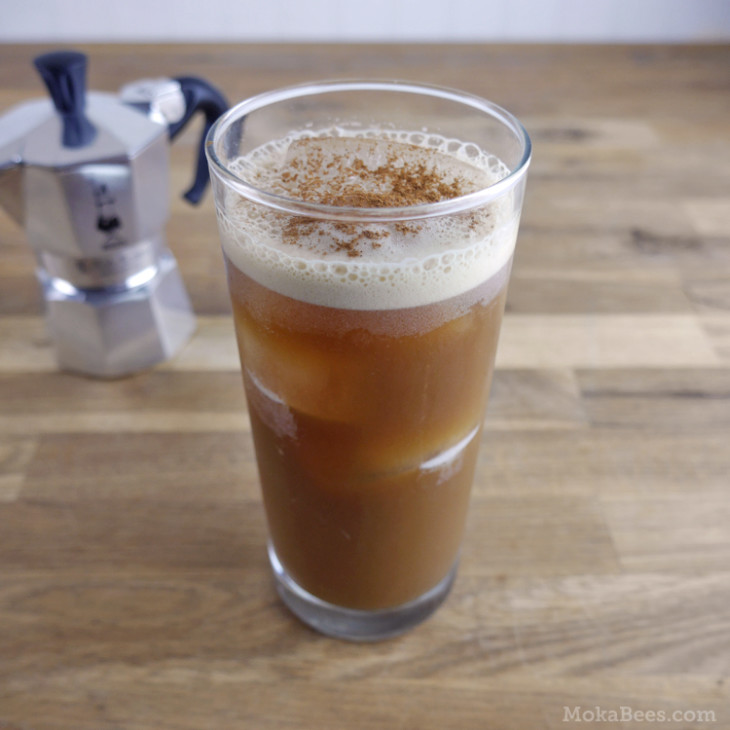 Horchata is a sweet, milky drink made from rice, ground almonds, or tigernuts. The most common variety in the States is rice-based and flavored with vanilla and cinnamon. It tastes similar to a sweet coconut milk. You can make it at home, or find liquid or powder versions in the latin foods section of most major grocery stores. If you're feeling adventurous and want to make it from scratch, this recipe from Follow Me Foodie works well.
This cocktail is a great alternative to the traditional hot Mexican coffee.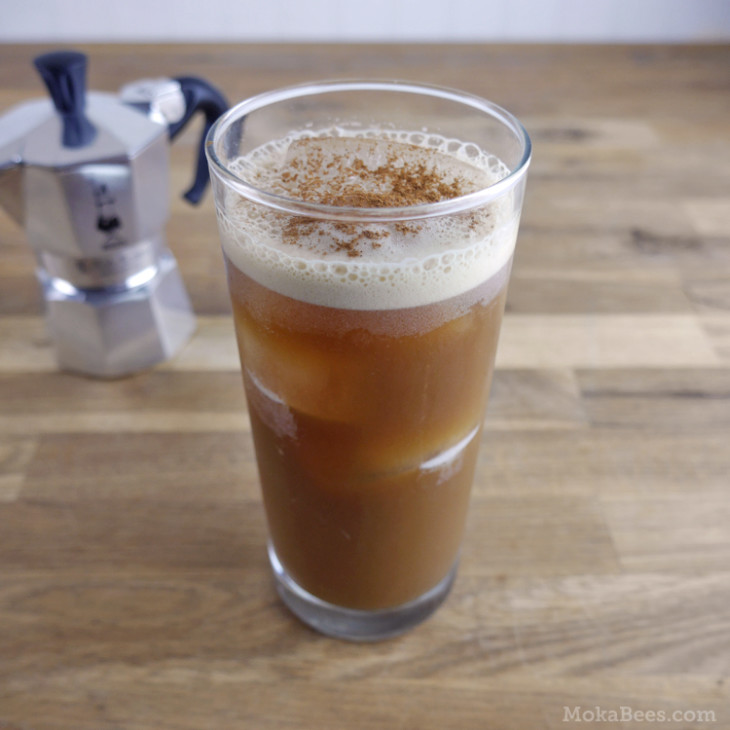 Horchata Coffee Cocktail
2016-02-02 11:35:16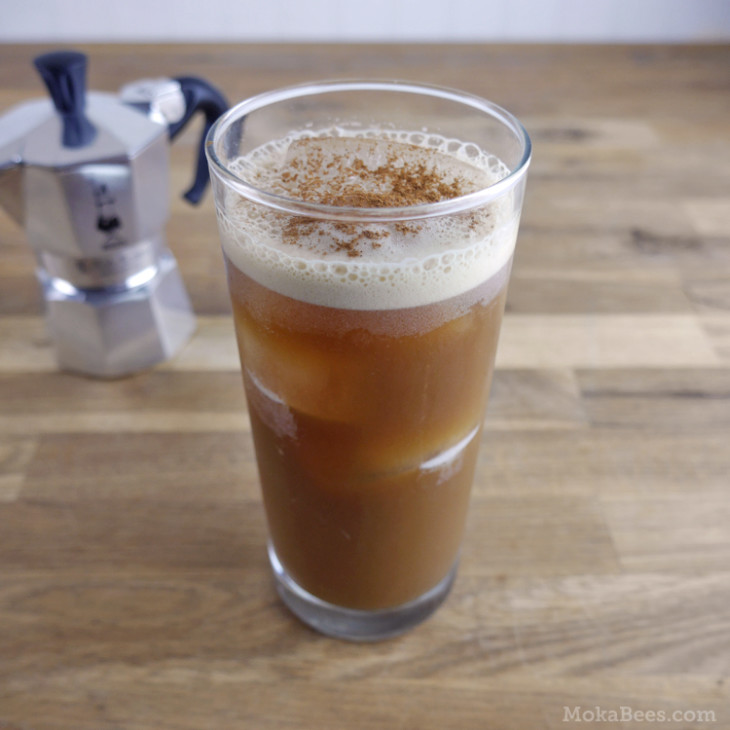 Serves 1
A refreshing mix of creamy horchata, coffee, rum, and cinnamon spice.
Ingredients
2 ounces horchata
1 ounce rum (white or dark)
3 ounces of strong coffee or espresso
crushed ice
ground cinnamon to taste
Instructions
Combine horchata, rum, and coffee in a cocktail shaker and fill with ice.
Shake well, and strain into a chilled 6-8 ounce glass over ice.
Sprinkle with cinnamon to taste.
Adapted from Liquor.com
MokaBees • Coffee Recipes & How-Tos http://www.mokabees.com/
Coffee Cocktail #3: Espresso Martini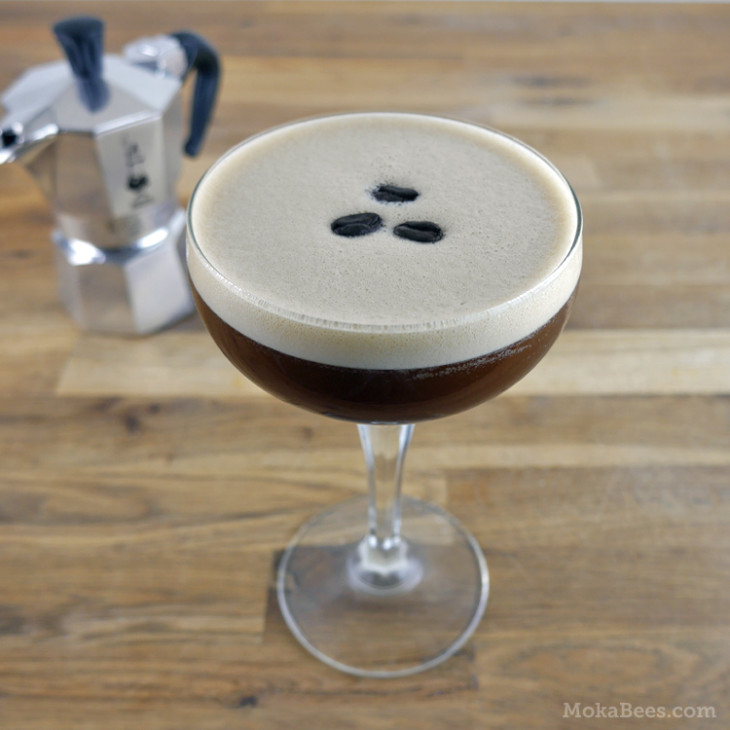 This classic recipe combines espresso, vodka, and coffee liqueur to create a refreshing and not-too-sweet cocktail. The great thing about the Espresso martini is that it's a great base for so many variations by adding flavor syrups, chocolate or vanilla creme liqueurs, or spices. This can be served with or without the "simple syrup", if you're trying to save on calories.
If you don't have simple syrup on-hand, you can quickly whip-up a batch by combining very hot water with equal parts sugar. Stir until the mixture dissolves, and let cool.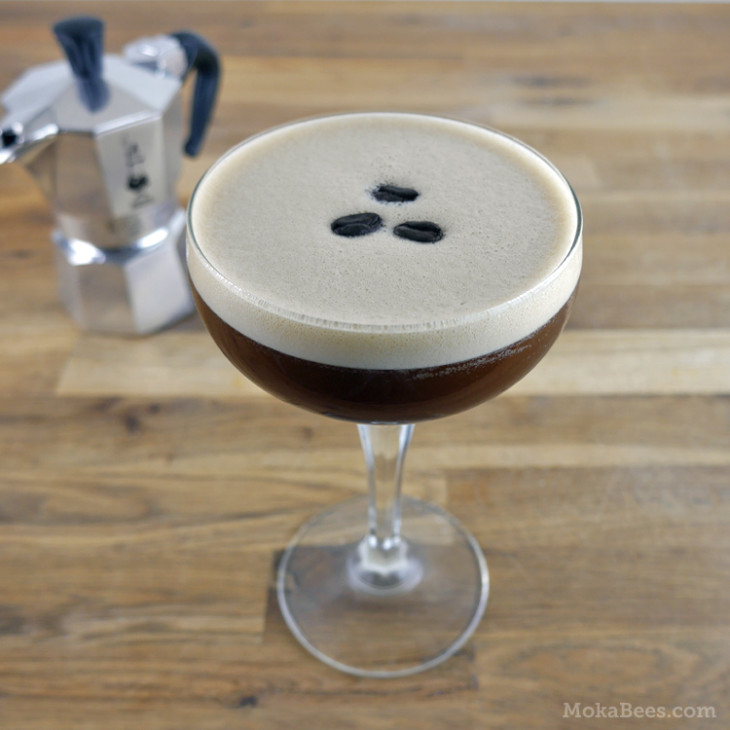 Espresso Martini
2016-02-02 11:44:17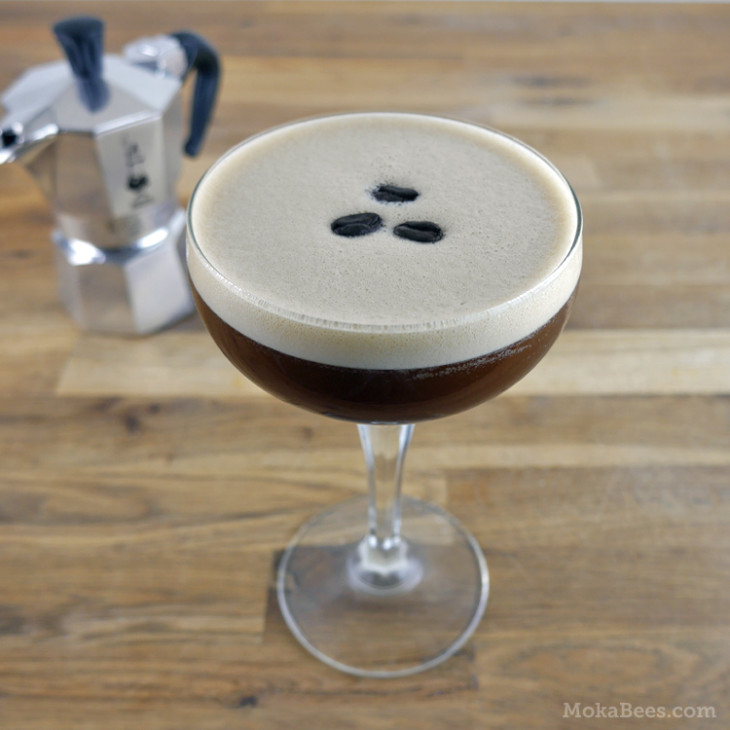 Serves 1
A classic combination of coffee, vodka, and a touch a sweetness. Topped with a foamy layer of rich java flavor.
Ingredients
2 ounces espresso or strong coffee
1 ounce vodka
1 ounce of coffee liqueur
1/2 ounce simple syrup
3 coffee beans
crushed ice
Instructions
Combine espresso, vodka, coffee liqueur, and syrup in a cocktail shaker and fill with ice.
Shake well and strain into a chilled martini glass.
Garnish with 3 coffee beans.
Notes
If you don't have simple syrup on-hand, you can quickly make it by combining very hot water with an equal amount of white, granulated sugar.
Adapted from Kahlua.com
MokaBees • Coffee Recipes & How-Tos http://www.mokabees.com/
Cocktail Shaker Giveaway!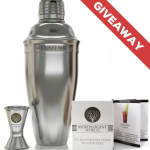 Mixologist World is sponsoring a giveaway of a free cocktail shaker kit! This set contains everything you need to get started making shaken cocktail at home, including:
Large, 24 ounce cocktail shaker with built-strainer.
Measuring jigger for 1 and half-ounce increments.
Illustrated guide to cocktails.
Two eBooks with cocktail and mocktail recipes.
The winner will be announced through our Twitter feed on March 4th, 2016. Rules, terms and conditions apply (see details below). Must be 21 or over and a resident of U.S. or Canada.
Mixologist World Cocktail Shaker Set Giveaway

Good luck!
Credits:
Special thanks to Mixologist World for sponsoring this post and contest.
Music credit: Rythme Gitan by Latché Swing. Licensed under a Attribution-Noncommercial-Share Alike 2.0 License.
Products used in this video:
Note that for all of these moka pots, "1 cup" actually equals about "1 shot" of coffee.